ESTRELLA OFFICIAL WEBSITE
Thank you very much for dropping by. If you are looking for lace, pastels, sweet, floral and all things girly, you have come to the right place. www.estrellakl.com.my is your one stop shop for modest and stylish fashion!
NEW ARRIVALS
M A T I L D A D R E S S | New and Fresh
Matilda, the perfect pinafore for autumn. This collection features warm, earthy tones that mimic the changing leaves, creating a cozy and enchanting look. Perfect for twirling through dried fallen leaves. Comes with an inner.
MATILDA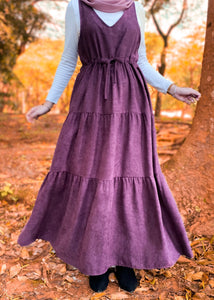 NEW COLOURS
G I A N N A | More sweet, more lovable colours
Estrella's signature dress, loved by many. Classy and casual at the same time. Suitable for weddings, bridesmaids, engagements, holidays or even casual dates. Your wardrobe needs one in every colour!
GIANNA
NEW HUES
H A R P E R S K I R T | What's your style this season?
Drenched in the richness of maroon, where passion meets sophistication. Effortlessly elegant in every sway – embracing the beauty of pleats!
HARPER SKIRT
NEW LAUNCHING
A D D I S O N | Personalize your style
Get ready to embrace the season with our new collection, ADDISON. It's soft and delicate, providing graceful vibes. This unique dress can also be worn as outerwear!
ADDISON